Welcome to The Grouse Woods
Red Gate Farm's Private Hunting Club
Give us a call and make an appointment to visit our work in progress — lets talk about your ideas and wishes as we take a tour of our beautiful upland hunting grounds. (603) 924-6030
Owned and operated by the Connolly family, family values are woven throughout the fabric of this private hunting club.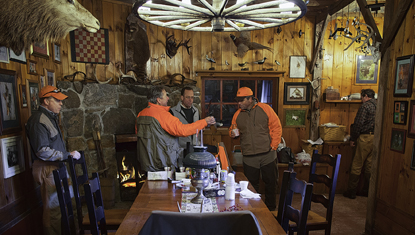 The varied terrain features old farm land, bogs, brambles, and overgrown meadows — a timeless bird hunting landscape.
Upland bird hunting the way it's meant to be with experienced guides, reliable gun dogs, and exceptional bird covers.
Experience the Best of Upland Bird Hunting
When we say the best of upland bird hunting what we really mean is an unforgettable experience marked by authenticity. Our private hunting and fishing club in Temple, NH, is built on a traditional and timeless bird hunting landscape.
You can choose to hunt with your own dog or as a guest on our guided bird hunts where you will be accompanied by exceptional gun dogs. Our grounds and low cover are ideal for Ruffled Grouse, Woodcock, Hungarian Partridge, Chukar Partridge, and Ring-necked Pheasant.
If you're ready to experience the way bird hunting used to be — the way our family believes it should be — join us at The Grouse Woods.